I was bored as hell and fucked at home and downing few shot of whisky and ate nothing only a can of tuna, and hard boiled eggs, I had two fucking hard egg today..
I am damn near die at home with the computer on!!! thank's god I wasn't in Indonesia which the intenet connection was crappy like shit, so here is a very hot stuff I found today........!!
Man, was I want to do is just pull off top and stuff and mimic this moves...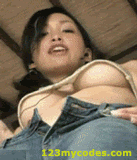 nice boobs, nice moves...!! Ahhh........ I wish that boobs was mine...........

here also a damn funny cool site I got.. click here if you guys wanted something to laugh for!! Its a full episode of Spider-Man from Toei Japan in'78.
you migh laugh your ass off!!
When you see Spider-Man call out his giant robot or fight a giant Power Rangers monster!!! Its subbed in english too!! So sit back and brace yourself and prepare to laugh!!!..

P.S You don't have to laugh if you don't think its funny!!

allright, Guys, I have to soaking my hot body in a bathtub la..!! wish me a luck, there no puke and falling myself into the bathtub, Man, I don't want to die yet, Man, Was I drunk now??!! Drunk my ass if you want to know the truth..