"his name Steven, geminian born on pig year so that's mean doubble pigs..LOL GEMINI PIG..wor...! next chicken year Steve become10 luu..exactly on 30th may! 1995 23 may I was 18 and I just Blown off candle on birth day cake that mom make for me and few days after my birth day!,I got him! OMG, I can't believe it!! I love U my baby boy...even Though I can't company whole your grew up day but mommy really proud of you ga..
nie cui haou dhe..nie zhe dou ma?no matter mommy not there right? you got daddy with you!
no matter daddy not here right?you have mommy beside you!..be brave my naughty boy!
gonna take you settle Down in Bali soon!!on your 17 th birthday..*.* mommy Luv U,
# Steve, really sweet N Gentle boy#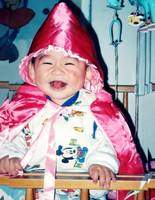 "1,2,3,,,CHEZE....... All I want is U,,!! "Momm,!C'mon!! Im Tired
Pretty boy!!..
Steven Lee 6 months old! does he look sweet and cute?
LOL...take a look around his cheeck!!..I LUV to bite its!






"