yeeahhh.......after the bitchy typon days,, there's seem nice sunny day will be come on tomorrow afternoon!!! wishing jah!! I was bored, nearly to die..but it's good I had my sonPC on!! so I got myself fucked on the internet things ont the otherhand repeatdly cheating on my son,,psstt!! about the urgent things I want from the web, infact i just killing my time!! and I choice this guy to go to the killing time with..boooo!!!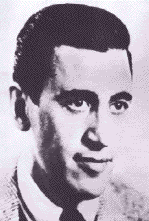 J.D Salliger heck over that web page and goggled over and over on his bullshitting..well, actualy it wasn't his person oon that bullshitting and be honest, I was like this Sallinger very much, well since i had that controversial book done at all..I was nut on that book and I also can get very nut on that Sallinger too......
Ha, Im easy to get to so peanut on the stuff that I thought it was clever ,smart and faster..!!
honesty, after his book I did found out that the conversation way was sound similiar while compare to that Holden..Yiiipiiee!!!